Dermatology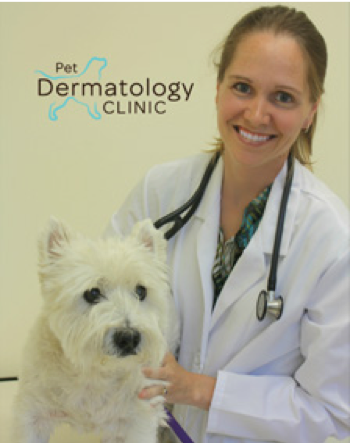 Starting in March, we are proud to be working alongside Dr Melissa Eisenschenk, a dermatologist based in Maple Grove and traveling to Rochester on a regular basis. Dr Eisenschenk is a board-certified veterinary dermatologist who completed her Bachelor of Science with minors in Animal Science and Chemistry at the University of Wisconsin- River Falls and attended veterinary school at the University of Minnesota. After vet school, she was in private practice for 4 years in Rochester and Minneapolis, and then returned in 2006 to the University of Minnesota for a dermatology residency (3 year program) and Master's degree. She passed dermatology board exams in 2009. Dr. Eisenschenk worked out of the Oakdale Animal Emergency and Referral Center as a Veterinary Dermatologist for 3.5 years before starting Pet Dermatology Clinic.
Dr. Eisenschenk travels to Med City Animal Hospital once monthly. Please call our office for more information or visit the Pet Dermatology Clinic website at petdermatologyclinic.com
Visit Dates at Med City Animal Hospital in 2018 (Tuesdays – subject to change):
Mar 5, 2019 July 2, 2019
Mar 26, 2019 July 30 2019
Apr 30, 2019 Aug 27, 2019
Jun 4, 2019 Oct 1, 2019
How To Schedule A Visit:
Please contact the Pet Dermatology Clinic directly at 763-210-1177.
What to expect from your visit:
The typical new patient exam lasts 1 hour (2 hours if skin testing is performed), during which time Dr Eisenschenk will discuss diagnostic and treatment options for your pet's condition. It is important to realize that many skin issues cannot be cured, but we have many tools to manage skin disease – and that not every pet will respond predictably to the same treatment.
One of the tools that a dermatologist may use is allergy skin testing. In order to get the maximum benefit from this test, it is important to discuss any medications that are being administered, as a large number of common medications will interfere with skin testing. You may need to discuss tapering off of those medications with your veterinarian prior to your dermatology appointment.
Please bring any medications or shampoos that your pet has been using, as well as any relevant medical history. Please note that the Pet Dermatology Clinic is a referral practice, and will not provide routine preventative care such as vaccinations or parasite control.