Meet Our Veterinary Team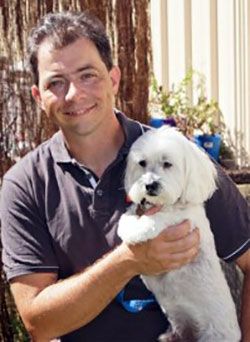 Dr. Nathan Mannix, Veterinarian and Founder
Nathan Mannix grew up in Alaska, did his undergraduate degree in biology at Gustavus Adolphus College in St Peter, and graduated in 2000 from the Royal Veterinary College in London, England. After working in Rochester and the surrounding area for 6 years, he and his wife, Kristin, moved to Australia for a 3 year 'experiment.' Eleven years and three children later, they moved back to Rochester, and Nathan is proud to bring his experience, skill, and compassion to Med City Animal Hospital. When not working or wrangling children, Nathan likes to spend his time hiking, fishing, playing hockey (goalie), or playing euphonium in the Polished Brass quintet.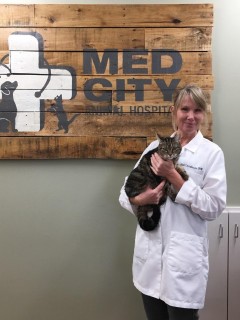 Dr. Shari Christenson, Veterinarian
Shari Christenson graduated from Iowa State University's College of Veterinary Medicine in 1992. She practiced in the Twin Cities prior to moving to the Rochester area. She thinks cats are the coolest creation on earth but greatly enjoys all animals. Her home is currently filled with senior pets (3 cats, 1 dog) and she and her family are also fortunate to have 2 horses as well. Her favorite part of practice is getting to know pets and their people - why they were chosen, how they got their name, quirks, tricks, and everything that makes them special.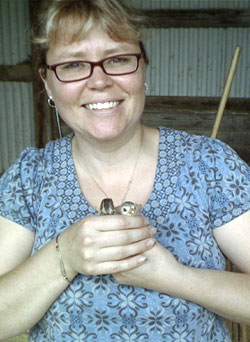 Jennifer Hille, Certified Veterinary Technician
Jenni has been a Certified Veterinary Technician for 20+ years. She has had a passion for helping animals all her life. Probably why she ended up with a small hobby farm and a menagerie of animals. She likes spending time with her husband on the farm, taking care of horses, donkeys, chickens, Stark her dog, and loads of cats. She even has a tortoise. When she is not taking care of her animals she likes reading, horseback riding, and scuba diving, and anything outdoors.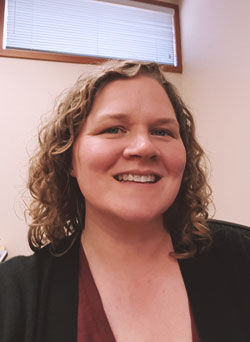 Natalie Finn, Veterinary Assistant
Natalie has worked in Rochester's veterinary community since 1999. Animals have always been a passion of Natalie's so she has known since she was a little girl that she would be working with animals in some fashion. Being able to interact with patients and their owners is something Natalie enjoys and takes pride in. Natalie currently resides in Stewartville with her husband, their two children, 2 chinchillas, and 3 goldfish her son won at the Olmsted County Fair in 2013. When not at work, Natalie spends her time making sure the kids are where they need to be - whether that is baseball practice for her son or dance and gymnastics for her daughter.